2020 Most Affordable Online Colleges for Psychology Degrees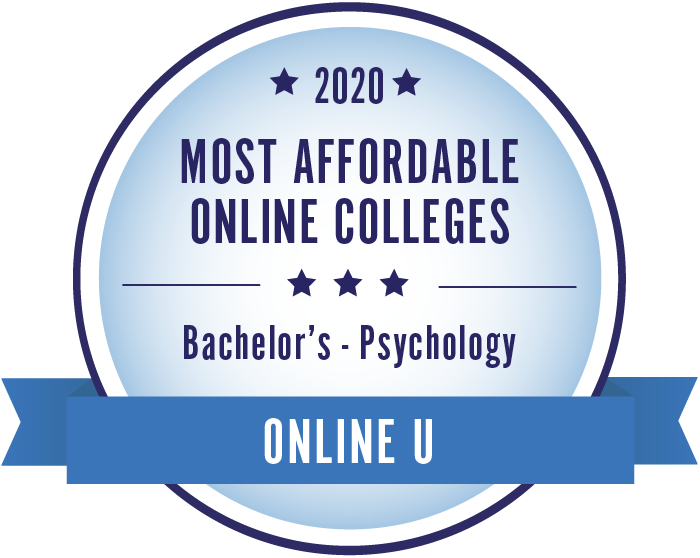 All tuition numbers were manually collected and verified
Rank
School

Annual Tuition

#

1

Tennessee State University

$4,200

#

2

Aspen University

$4,500

#

3

California Coast University

$4,725

#

4

Tarleton State University

$5,298

#

5

Fort Valley State University

$5,363

#

6

Clayton State University

$5,490

#

7

Valdosta State University

$6,060

#

8

Kennesaw State University

$6,180

#

9

University of the Cumberlands

$6,368

#

10

Wichita State University

$6,708

#

11

Claflin University

$6,744

#

12

Fort Hays State University

$6,778

#

13

Columbia Southern University

$6,900

#

14

Ohio University-Main Campus

$7,290

#

15

Louisiana State University-Alexandria

$7,500

#

16

Fayetteville State University

$7,556

#

17

Central Methodist University

$7,800

#

18

Lipscomb University

$8,000

#

19

University of Alaska Fairbanks

$8,070

#

20

American Public University System

$8,100

#

21

University of Idaho

$8,304

#

22

Clarion University

$8,334

#

23

University of Arkansas at Little Rock

$8,400

#

24

John F. Kennedy University

$8,500
Common Psychology Courses
The following is a list of common courses that are taken by psychology students who are pursuing an undergraduate degree. Depending on the school, some of these topics are taught as core courses and others as electives. In addition, some courses may be required for admittance into graduate programs.
Abnormal Psychology: A course in abnormal psychology is a common requirement for psychology majors at the undergraduate level. The class features a survey of common mental illnesses and disorders, their causes, and treatments. These illnesses include schizophrenia, social anxiety disorder, bipolar disorder, depression, addictions, and eating disorders. Coursework also explores how psychologists with a specialization in clinical practice assess patients and implement treatment plans to help them lead healthier lives.
Clinical Psychology: Clinical psychologists evaluate, diagnose, and treat patients experiencing psychological distress and mental illness. A course in clinical psychology gives students a broad overview of essential topics such as patient assessment, common disorders, and ethical considerations. Students may pursue an online program in clinical psychology, first earning a master's degree and then a Doctor of Psychology (Psy.D.). To practice as a clinical psychologist, individuals typically need a doctorate and state licensure; however, some states allow individuals with master's degrees to practice under the supervision of a licensed clinical psychologist.
Developmental Psychology: This is the study of human development from infancy through adolescence and into late adulthood. Thus, most psychology majors take either a course on the full spectrum of human development or that focuses on one subsection, such as early childhood development. Coursework may cover family relationships, emotional development, adaptations to aging, and more. Students who go on to earn graduate-level degrees in developmental psychology can become behavioral therapists, social service representatives, learning disabilities specialists, or other types of mental health practitioners.
General Psychology: General psychology is a popular liberal arts elective for undergraduate students. Coursework often begins with a brief introduction to the history of psychology before moving into an exploration of a broad range of topics. Typical subjects include consciousness, motivation, perception, emotion, learning, and abnormal behavior. This class sometimes motivates students to pursue online bachelor's degrees in psychology or human behavior in preparation for a career in psychology, mental health, or social services.
Human Behavior: A course in human behavior invites students to study the way biological, psychological, and social factors influence human interaction. Specifically, students will look at how social norms, ethics, and diversity shape a person's values, perspectives, and identities. The curriculum may also cover the evolution of human behavior across the lifespan. Typically taken as an introductory course at the undergraduate level, human behavior is often a requirement for psychology majors, criminal justice majors, and behavioral science majors.
Neuroscience: An introductory course in neuroscience will touch on a diverse array of science-oriented topics as they relate to human development. However, students can also pursue a bachelor's degree in neuroscience, which means they will be required to take individual courses in such subjects as cognitive psychology, developmental neuroscience, and psychopharmacology. Neuroscientists combine elements of psychology with biology, chemistry, and other sciences to better understand how the brain and nervous system affect human behavior.
Social Psychology: Social psychology courses provides a deeper understanding of how people view, interpret, and respond to their social environments. Specific areas of discussion often include the self, attitudes, emotions, peer pressure, competition, and prejudice. Many students find that this course content lends itself to useful, practical applications in their daily lives.
Funding a Psychology Degree
In general, students enrolled in an online psychology program have the same financial aid options available to them as students of other programs. To help with affordability, students may choose options that do not have to be repaid, such as grants, scholarships, fellowships, and work-study programs. Other forms of aid available to students of accredited schools are federal and private loans.
Additionally, there are opportunities designed specifically for psychology majors in bachelor's programs or related graduate degrees and doctoral programs. Scholarships, grants, and other funding may be available from the following professional organizations:
Other organizations, such as the Pride Foundation, offer scholarships to promote the study of mental health. Certain colleges and universities, including the University of Wisconsin at La Crosse and the University of Minnesota, provide funding to select undergraduate and graduate students interested in studying psychology and human behavior.
Online students also have access to their schools' financial aid offices. Tennessee State University, for example, offers a deferred payment plan for students who meet certain criteria. At California Coast University, online students may be eligible for tuition discounts and interest-free payment plans. When selecting an online psychology degree program, prospective students may want to consult the financial aid offices at the schools they're interested in as part of their school search process.
Frequently Asked Questions About Affordable Online Psychology Degrees
What salary can I expect with an online psychology degree?
Students who've earned an online bachelor's degree in psychology have a wide range of paths to choose from depending on their career goals. Many go to work in social services as caseworkers, earning a median annual salary of $50,470, according to the U.S. Bureau of Labor Statistics. Others may go into the criminal justice system, taking jobs as parole officers or substance abuse counselors, for example. Median salaries for these positions range from $46,240 to $54,290. Still others may seek out jobs in business for which insights into human behavior and psychology are useful, in roles such as sales representative or human resource advisor. Median salaries vary widely for these roles.
Individuals who want to work as mental health professionals, such as therapists, school psychologists, or clinical psychologists, will need to pursue graduate degrees and sometimes doctorates to become licensed practitioners. According to the Bureau of Labor Statistics, individuals with advanced degrees in psychology earn median incomes ranging from $49,610 to $87,450.
Are psychology degrees affordable?
As with all degrees, the cost of earning a psychology degree varies depending on a number of factors. The most important of these is the choice of school and type of program. Many schools offer online degrees that cost less than their on-campus counterparts, and some schools are more affordable. Annual tuition rates of schools ranked at the top of this page range from $4,200 to $8,500. Other factors include whether a student pursues full-time or part-time study and whether financial aid is available to them. Our sister site provides additional insights into earning a college degree for less and lowering the cost of higher education, through transfer credits, student bargaining power, and financial aid.
Will I have the same career options with an online degree in psychology?
Provided students have attended credible, accredited schools, their online psychology degrees should typically command the same respect and create similar opportunities as on-campus degrees. At any given school, enrollment requirements to enter traditional and distance learning programs are typically similar. The curriculum will also be comparable, and online courses are often taught by the same faculty.