2020 Most Affordable Online Public Administration Degrees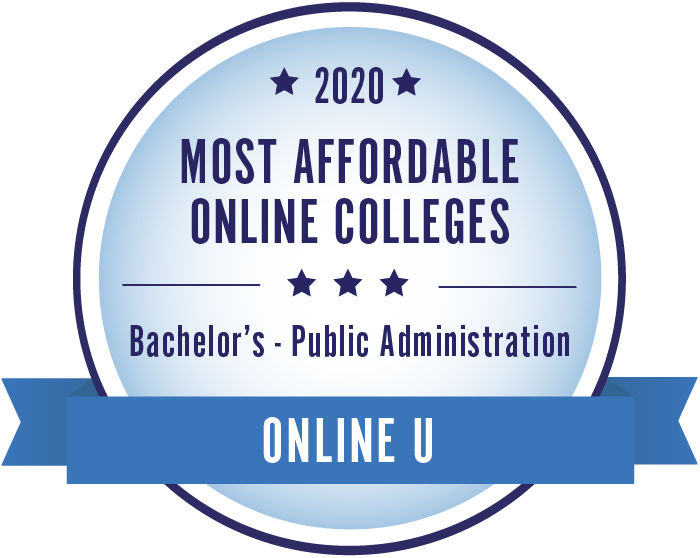 Ranked by affordability, these 23 schools all offer online low-cost bachelor's degrees in public administration. Florida SouthWestern State College is the #1 school on the list, offering a tuition rate of $2,753 annually. Ranked #2, Fort Valley State University offers a Bachelor of Science in Organizational Leadership - Public Service Administration at a tuition rate of $5,190 annually.
You can read more about our ranked schools below or browse our rankings of the most affordable online MPA programs. View our methodology or learn more about OnlineU.
All tuition numbers were manually collected and verified
Rank
School
Annual Tuition

# 1
Florida SouthWestern State College

$2,753

# 2
Fort Valley State University

$5,190

# 3
Albany State University

$5,487

# 4
Georgia Southern University

$5,766

# 5
University of North Carolina at Pembroke

$6,977

# 6
Barry University

$7,410

# 7
Fayetteville State University

$7,556

# 8
Central Methodist University

$7,800

# 9
Peru State College

$8,895

# 10
University of Maine at Augusta

$9,269

# 11
Southern New Hampshire University Online

$9,600

# 12
Southern Illinois University - Carbondale

$9,637

# 13
University of West Alabama

$9,750

# 14
Florida International University

$10,376

# 15
SUNY Empire State College

$10,943

# 16
Eastern Oregon University

$11,340

# 17
Liberty University

$11,700

# 18
College of Coastal Georgia

$11,835

# 19
Dalton State College

$11,836

# 20

(tie)

Franklin University

$11,940

# 20

(tie)

Mount Vernon Nazarene University

$11,940

# 20

(tie)

University of Phoenix

$11,940

# 23
Park University

$12,450