2020 Most Affordable Online MPH Programs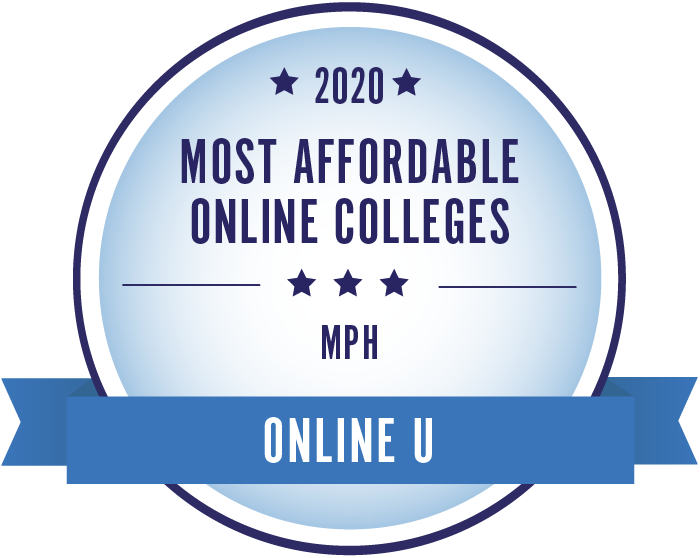 Graduates of online master's in public health (MPH) programs work in a variety of capacities, such as epidemiologists and environmental specialists. Many of these are lucrative, high-growth occupations. For example, Bureau of Labor Statistics (BLS) data shows that medical and health services managers earn a median annual salary of $100,980, and demand for these professionals is projected to grow by 32% over the next decade.
Below, we provide a list of 25 accredited colleges offering the most affordable online MPH programs. We also include information about the cost of a degree, options for funding your program, and whether an online MPH will be worth it.
You can read more about our ranked schools below or browse our rankings of the most affordable online bachelor's in public health degrees. View our methodology or learn more about OnlineU.
All tuition numbers were manually collected and verified
Rank
School
Annual Tuition

# 1
New Mexico State University

$5,593

# 2
Columbia Southern University

$5,670

# 3
Lamar University

$5,775

# 4
University of Missouri

$6,804

# 5
Mississippi University for Women

$7,424

# 6
University of Nevada - Reno

$7,525

# 7
North Dakota State University - Main Campus

$7,867

# 8
American Public University System

$8,400

# 9
University of Alabama

$8,820

# 10
SUNY at Albany

$9,605

# 11
University of Illinois at Springfield

$9,774

# 12

(tie)

South Dakota State University

$9,781

# 12

(tie)

University of South Dakota

$9,781

# 14
Indiana State University

$10,820

# 15
Saint Mary's University of Minnesota

$11,050

# 16
Shenandoah University

$11,200

# 17
Southern New Hampshire University Online

$11,286

# 18
University of Alabama at Birmingham

$11,529

# 19
Texas A&M University-College Station

$11,636

# 20
Purdue University Global

$11,760

# 21
University of South Carolina - Columbia

$12,017

# 22
San Jose State University

$12,075

# 23
University of Nebraska Medical Center

$12,180

# 24
Nova Southeastern University

$12,200

# 25
University of Massachusetts - Amherst

$12,915
Common Master's in Public Health Courses
Public health professionals develop and implement programs designed to promote wellness within their communities and beyond. Master's programs in public health prepare graduates to assume these roles by teaching them the core competencies, foundational knowledge, and analytical skills they need to work both in research and practical environments. Courses commonly found in an online Master of Public Health program include:
Principles of Public Health: One of the first courses in a master's of public health program, this class introduces key topics, such as community and environmental health, social and behavioral determinants of health, epidemiology, biostatistics, and health policy and systems. Case studies provide real-world applications of these concepts and show how they are interrelated.
Biostatistics: With a heavy emphasis on advanced mathematical concepts, this course examines the use of quantitative methods to help solve public health problems. Students use probability, descriptive statistics, inferential statistics, and nonparametric tests to analyze research data that pertains to public health.
Community Health: One of two companion courses that explore major disciplines within public health, a community health course focuses on the socioeconomic, racial, and cultural determinants of a community's health. Coursework also examines the models and programs used to address common concerns.
Environmental Health: The companion to a community health course, an environmental health course informs students about the effects of natural and human-caused conditions on a community's health. Students learn to investigate, analyze, and develop policies and programs considering environmental factors such as air, water, soil, and other physical characteristics that create healthy living environments.
Epidemiology: This introductory course provides a general overview of the causes of diseases, disorders, defects, and injuries that may occur in human populations. Students develop critical thinking skills as they analyze public health problems and evaluate possible interventions and treatments.
---
How Much Does an Online MPH Degree Cost?
Of the schools we've researched at OnlineU to rank the most affordable online master's degrees across subjects, the median annual tuition rate for online master's programs is $10,448 at public colleges and $11,475 at private universities. For the most affordable online MPH degrees, the cost of annual tuition ranges from $5,593 to $12,915.
The total cost of an online Master of Public Health (MPH) can vary based on several factors but the most significant is tuition. To get an accurate comparison of tuition fees, students can determine a school's per-credit tuition rate and multiply that by the number of credits required to graduate. At the 25 schools on our list of most affordable online MPH degrees, the per-credit tuition rates start at $315 and go up to $700, and most programs require 30-50 credit hours.
In addition to tuition, prospective students need to add in the cost of books, supplies, and various fees charged by the school, including application and technology fees. Some students may also need to account for special expenses, including childcare, student loan interest, and travel costs associated with any on-campus residencies or workshops that are a required part of the curriculum.
---
Funding an Online MPH Program
Students who would like to earn a Master of Public Health degree online have a number of options for funding their education. Most students begin the process by filling out and submitting a Free Application for Federal Student Aid (FAFSA) form. The school or schools they're interested in attending will then provide an offer detailing the types of financial aid that are available. The best options are funding types that don't need to be paid back, which include scholarships, fellowships, and grants offered by universities or private organizations. Some online graduate students may also be able to cover a portion of their educational expenses through teaching assistantships or by engaging in other types of work-study programs. Many students will also be eligible for federal or private loans, but these are less desirable due to the interest that must be paid back.
Because there is a growing need for public health professionals, many organizations offer financial aid for students pursuing degrees in this field.
Because there is a growing need for public health professionals—the Bureau of Labor Statistics projects a 13% increase in the need for health educators through 2029, for example—many organizations offer financial aid for students pursuing degrees in this field. Some of the available master's-level scholarships include:
There are also fellowships available for MPH students:
---
Is an Online MPH Worth It?
Students may be wondering whether a master's in public health will be a useful stepping stone for their future goals, and whether online programs provide the same benefits as in-person programs do.
A Master of Public Health (MPH) degree from an accredited college or university is a versatile credential, ideal for anyone who is interested in health issues and serving the public. On campus or online, the curriculum for most MPH programs encompasses courses from the social sciences, such as health-related public policy, psychology, and health education, as well as scientific courses in epidemiology, infectious diseases, and environmental health. This level of diversity means that graduates are prepared to pursue a number of different occupations in the field.
Not only are there numerous career opportunities for MPH degree holders, many of these occupations are increasing in demand and offer comfortable salaries.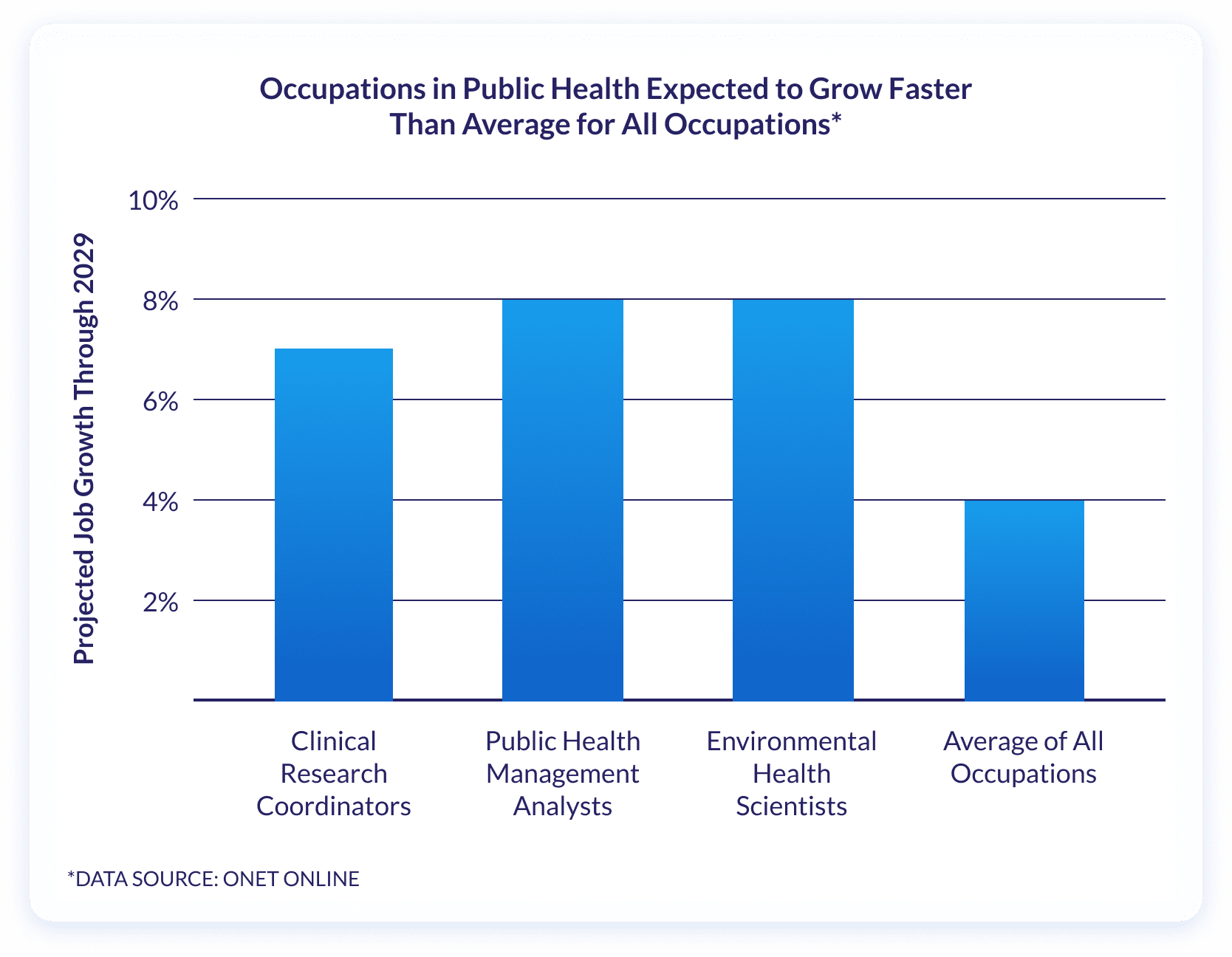 According to ONET Online, the need for clinical research coordinators—who earn a median annual salary of $129,100—could increase by 7%, which is above the 4% growth rate for all occupations. Public health management analysts earn a median annual salary of $85,260, and demand for these individuals is expected to grow by 8% or more. The need for environmental health scientists is also projected to increase by at least 8%, and these professionals earn median annual salaries of $71,360. When these outcomes are compared to the initial cost of an online MPH, a master's degree might be a smart investment.
Earning an MPH through distance education brings its own benefits:
Many of today's hiring managers understand the value of an online education from an accredited university and are starting to have just as much respect for online MPH degrees as for traditional, on-campus degrees.
With so many online degrees—including some with special concentrations, such as health policy, community nutrition, or health education—to choose from, students can easily find the right program at the right cost for their needs.
In addition to honing their abilities for research and analysis, online public health students are able to develop "soft" skills, such as collaboration, communication, time management, organization, and problem solving, that are extremely valuable in the workplace.
Online MPH programs are often as effective at preparing graduates for rewarding careers in public health as their on-campus counterparts, and they offer some unique benefits to students. Ultimately, however, determining whether an online MPH degree is a good choice for an individual is a personal decision based on career goals, interests, and financial resources.