2020 Most Affordable Online Colleges for Spanish Degrees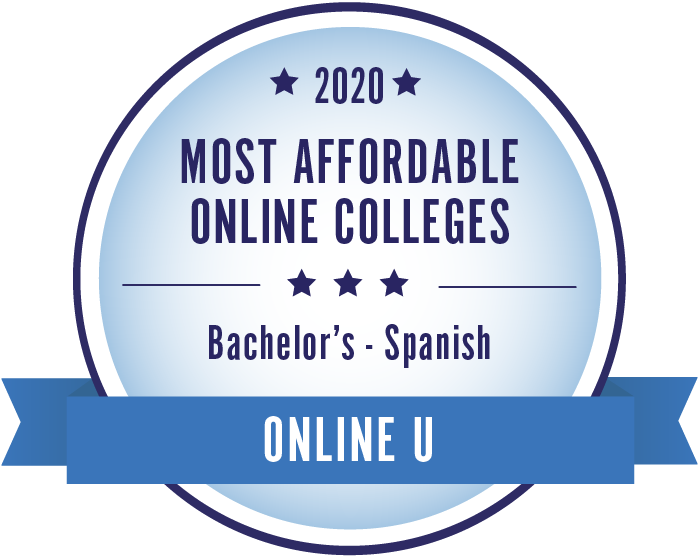 The 13 schools on this list represent the most affordable options for obtaining an online bachelor's degree in Spanish. Valdosta State University, our top-ranked school, has the lowest tuition on the list at only $6,060 per year. Ranked #2, the Fort Hays State University offers a Bachelor of Arts in Spanish - Language and Culture, and a Bachelor of Arts in Spanish - World Languages and Cultures. Tuition for these programs is $6,560 annually. Courses include Foreign Language Teaching Methodology, Grammar & Composition, Latin-American Civilization, and Spanish Conversational Skills.
You can read more about our ranked schools below or see our Overall Most Affordable Colleges. View our methodology or learn more about OnlineU.
All tuition numbers were manually collected and verified
| Rank | School | Annual Tuition |
| --- | --- | --- |
| # 1 | Valdosta State University | $6,060 |
| # 2 | Fort Hays State University | $6,560 |
| # 3 | Eastern New Mexico University-Main Campus | $7,492 |
| # 4 | University of Arkansas at Little Rock | $8,400 |
| # 5 | Florida International University | $10,376 |
| # 6 | University of North Alabama | $10,500 |
| # 7 | Northern State University | $10,537 |
| # 8 | University of Central Florida | $11,515 |
| # 9 | College of Coastal Georgia | $11,835 |
| # 10 | Oregon State University | $13,905 |
| # 11 | Arizona State University | $15,900 |
| # 12 | National University | $16,650 |
| # 13 | Mercy College | $18,934 |