2018 Most Affordable Online Colleges for a Master's in Special Education
0%

of users found this page helpful
Was this page helpful?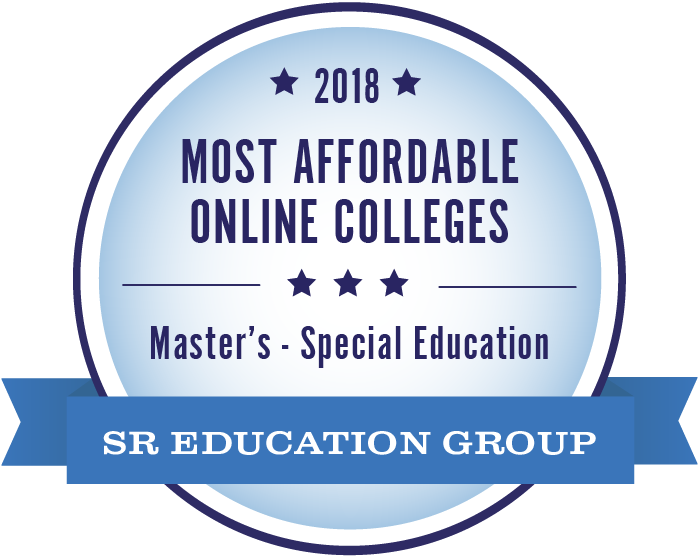 The following 25 schools are the most affordable online programs in special education, all offering a Master's Degree in Special Education that costs less than $7,000 per year. Morningside College ranks #1 with an annual tuition of only $4,500. Texas Tech University and University of Central Arkansas are tied at #13, costing an affordable $5,850 per year. Texas Tech University offers 8 different master's degrees in special education, including a Master of Special Education - Visual Impairment and a Master of Special Education - Deaf Education.
You can read more about our ranked schools below or browse our 2018 rankings of the most affordable online master's programs. View our methodology or learn more about SR Education Group.
All tuition numbers were manually collected and verified
Rank
College
Annual Tuition

#1

Morningside College

Annual Tuition

$4,500

#2

Missouri State University

Annual Tuition

$4,845

#3

Eastern Illinois University

Annual Tuition

$4,964

#4

Midwestern State University

Annual Tuition

$5,037

#5

Fort Hays State University

Annual Tuition

$5,053

#6

Henderson State University

Annual Tuition

$5,265

#7

Valdosta State University

Annual Tuition

$5,274

#8

University of West Georgia

Annual Tuition

$5,304

#9

Minot State University

Annual Tuition

$5,355

#10

Albany State University

Annual Tuition

$5,400

#11

William Carey University

Annual Tuition

$5,550

#12

Delta State University

Annual Tuition

$5,617

#13

(tie)

Texas Tech University

Annual Tuition

$5,850

#13

(tie)

University of Central Arkansas

Annual Tuition

$5,850

#15

Concordia University - Saint Paul

Annual Tuition

$5,925

#16

Southeast Missouri State University

Annual Tuition

$6,009

#17

Augustana University - SD

Annual Tuition

$6,150

#18

New Mexico Highlands University

Annual Tuition

$6,267

#19

American Public University System

Annual Tuition

$6,300

#20

Western Governors University

Annual Tuition

$6,380

#21

Drury University

Annual Tuition

$6,462

#22

University of the Cumberlands

Annual Tuition

$6,615

#23

University of Missouri

Annual Tuition

$6,851

#24

Kennesaw State University

Annual Tuition

$6,894

#25

Wilmington University

Annual Tuition

$6,990