2018 Most Affordable Online Colleges for a Master's in Sports Management
0%

of users found this page helpful
Was this page helpful?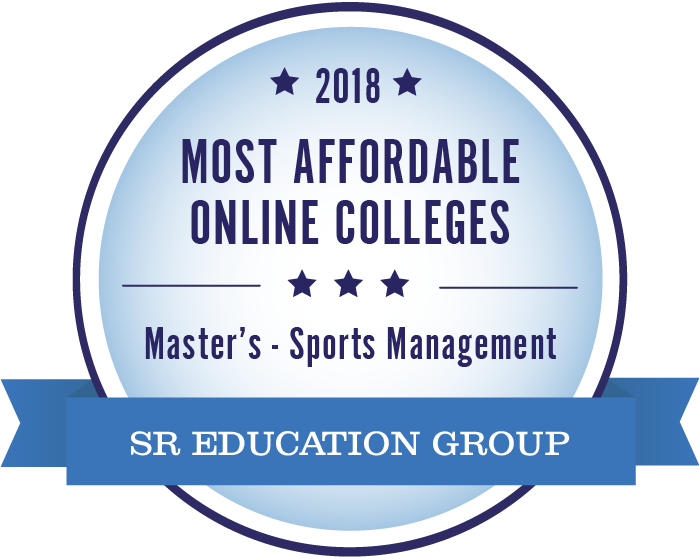 With 22 out of 25 of the schools on this list offering tuition rates under $10,000 a year, there are many options for students seeking an affordable online sports management program. In the top spot is Midwestern State University, offering an online Master of Education in Sports Administration for just $4,749 per year. University of Central Missouri, ranked #2, offers two master's programs in sports management: a Master of Business Administration with a concentration in sports business and a Master of Science in Kinesiology with a concentration in sport management.
You can read more about our ranked schools below or browse our 2018 rankings of the most affordable online master's programs. View our methodology or learn more about SR Education Group.
All tuition numbers were manually collected and verified
Rank
College
Annual Tuition

#1

Midwestern State University

Annual Tuition

$4,749

#2

University of Central Missouri

Annual Tuition

$5,784

#3

Chadron State College

Annual Tuition

$5,850

#4

Pittsburg State University

Annual Tuition

$5,904

#5

East Central University

Annual Tuition

$5,988

#6

Southeast Missouri State University

Annual Tuition

$6,009

#7

Jacksonville State University

Annual Tuition

$6,112

#8

University of South Dakota

Annual Tuition

$6,663

#9

Fort Hays State University

Annual Tuition

$6,800

#10

Grace College and Theological Seminary

Annual Tuition

$7,290

#11

Georgia Southern University

Annual Tuition

$7,380

#12

Campbellsville University

Annual Tuition

$7,485

#13

University of South Alabama

Annual Tuition

$7,500

#14

Concordia University - Texas

Annual Tuition

$7,875

#15

Wilmington University

Annual Tuition

$8,388

#16

Endicott College

Annual Tuition

$8,604

#17

University of Louisiana-Monroe

Annual Tuition

$9,000

#18

(tie)

Arkansas State University

Annual Tuition

$9,612

#18

(tie)

Eastern New Mexico University-Main Campus

Annual Tuition

$9,612

#20

Old Dominion University

Annual Tuition

$9,684

#21

University of Southern Mississippi

Annual Tuition

$9,898

#22

Baker University

Annual Tuition

$9,990

#23

Gardner Webb University

Annual Tuition

$10,110

#24

Liberty University

Annual Tuition

$10,170

#25

Concordia University - Saint Paul

Annual Tuition

$10,450