2019 Most Affordable Online Master's in Systems Engineering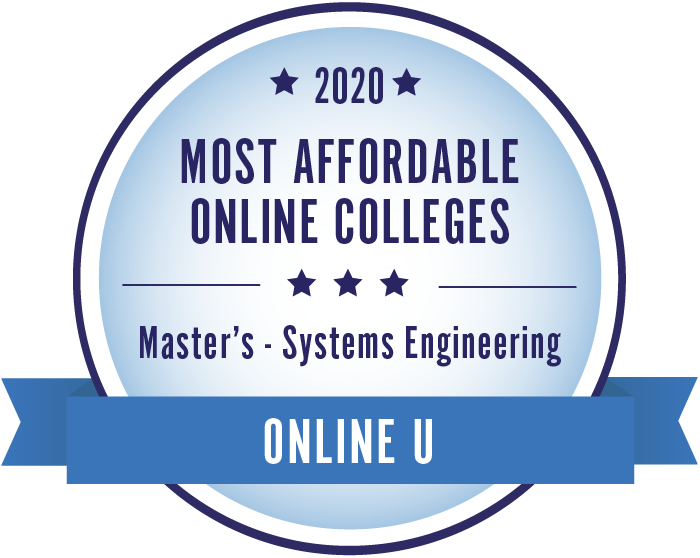 The 24 colleges on this list all offer affordable online master's in systems engineering degrees for under $23,000 annually. Kennesaw State University ranks #1, with an annual tuition of only $6,894. Students can obtain one of five different master's in systems engineering degrees at #7-ranked Embry-Riddle Aeronautical University-Worldwide for an affordable $11,970. The average tuition of the schools on this list is a low $15,378 per year.
You can read more about our ranked schools below or browse our 2019 rankings of the most affordable online master's programs. View our methodology or learn more about SR Education Group.
All tuition numbers were manually collected and verified
Rank
College
Annual Tuition

#1

Kennesaw State University

$6,894

#2

Old Dominion University

$8,520

#3

Iowa State University

$9,405

#4

University of Central Florida

$9,572

#5

Oregon Institute of Technology

$10,956

#6

University of Maryland University College

$11,862

#7

Embry-Riddle Aeronautical University-Worldwide

$11,970

#8

University of Kentucky

$13,052

#9

University of Colorado Colorado Springs

$13,098

#10

National University

$13,760

#11

Arizona State University

$13,860

#12

Virginia Polytechnic Institute and State University

$15,096

#13

University of California - Los Angeles

$15,451

#14

George Washington University - Engineering

$16,110

#15

The University of Texas at Arlington

$16,120

#16

Colorado State University-Fort Collins

$16,275

#17

University of Arizona - Engineering

$17,235

#18

Purdue University - Main Campus

$19,530

#19

Southern Methodist University

$20,250

#20

University of Michigan - Dearborn

$20,955

#21

North Carolina State University

$21,165

#22

Missouri University of Science and Technology

$22,500

#23

Worcester Polytechnic Institute

$22,695

#24

George Mason University

$22,740