2018 Most Affordable Online Colleges for Women in STEM
0%

of users found this page helpful
Was this page helpful?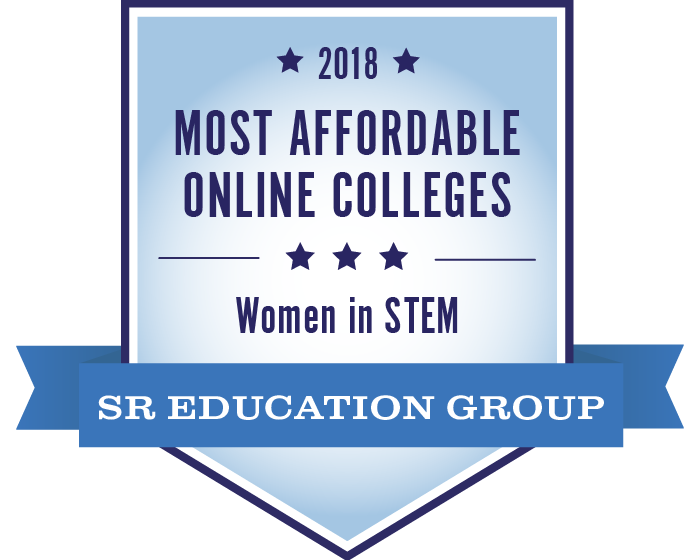 Female students looking for affordable online STEM degrees will find excellent options on SR Education Group's 2018 list of Most Affordable Online Colleges for Women in STEM. These 25 schools stand out from the rest for their support of women in STEM fields, their online STEM degree offerings, and their low annual tuition rates. Georgia Institute of Technology, ranked first, offers an affordable tuition at $2,550 per year, while University of Michigan - Dearborn, ranked #23, holds the highest STEM-Friendly score at 93.85.

PowerToFly is a respected platform and community connecting skilled professionals with each other, and with companies committed to building diverse and inclusive environments. Browse their recommended schools (indicated by ) or learn more about their mission.
All tuition numbers were manually collected and verified
Rank
College
Annual Tuition
STEM-Friendly Score

#1

Georgia Institute of Technology

Annual Tuition

$2,550

STEM-Friendly Score

91.28

#2

University of Arkansas

Annual Tuition

$4,791

STEM-Friendly Score

73.18

#3

University of Alabama

Annual Tuition

$5,625

STEM-Friendly Score

69.92

#4

Texas Tech University

Annual Tuition

$6,570

STEM-Friendly Score

76.78

#5

Mississippi State University

Annual Tuition

$7,215

STEM-Friendly Score

75.98

#6

University of Alabama in Huntsville

Annual Tuition

$8,595

STEM-Friendly Score

68.11

#7

The University of Texas - Rio Grande Valley

Annual Tuition

$8,761

STEM-Friendly Score

68.30

#8

University of Idaho

Annual Tuition

$8,941

STEM-Friendly Score

65.99

#9

Iowa State University

Annual Tuition

$9,360

STEM-Friendly Score

70.63

#10

Florida International University

Annual Tuition

$9,893

STEM-Friendly Score

67.39

#11

Colorado State University-Global Campus

Annual Tuition

$10,500

STEM-Friendly Score

77.92

#12

University of Central Florida

Annual Tuition

$10,866

STEM-Friendly Score

68.21

#13

University of Colorado Denver

Annual Tuition

$11,375

STEM-Friendly Score

65.84

#14

Old Dominion University

Annual Tuition

$11,670

STEM-Friendly Score

74.85

#15

Embry-Riddle Aeronautical University-Worldwide

Annual Tuition

$12,090

STEM-Friendly Score

70.79

#16

University of Kentucky

Annual Tuition

$12,412

STEM-Friendly Score

78.76

#17

Colorado State University-Fort Collins

Annual Tuition

$12,528

STEM-Friendly Score

88.67

#18

Purdue University - Main Campus

Annual Tuition

$12,639

STEM-Friendly Score

83.21

#19

University of New Haven

Annual Tuition

$13,350

STEM-Friendly Score

72.94

#20

East Carolina University

Annual Tuition

$13,459

STEM-Friendly Score

73.07

#21

California State University-Fullerton

Annual Tuition

$13,611

STEM-Friendly Score

67.13

#22

Michigan State University

Annual Tuition

$13,965

STEM-Friendly Score

76.95

#23

University of Michigan - Dearborn

Annual Tuition

$14,040

STEM-Friendly Score

93.85

#24

University of Washington - Seattle

Annual Tuition

$14,100

STEM-Friendly Score

86.49

#25

Auburn University

Annual Tuition

$14,235

STEM-Friendly Score

81.00